I samarbejde med Winning TEam og Scandinavian Executive Institute
Deltag på Masterclass med professorer fra INSEAD og IMD.
Undervisning og viden fra øverste hylde
07.05.20
 INSEAD Masterclass med Andre Calmon and Jackie Stenson
"SUSTAINABILITY: THE ROLE OF BUSINESS"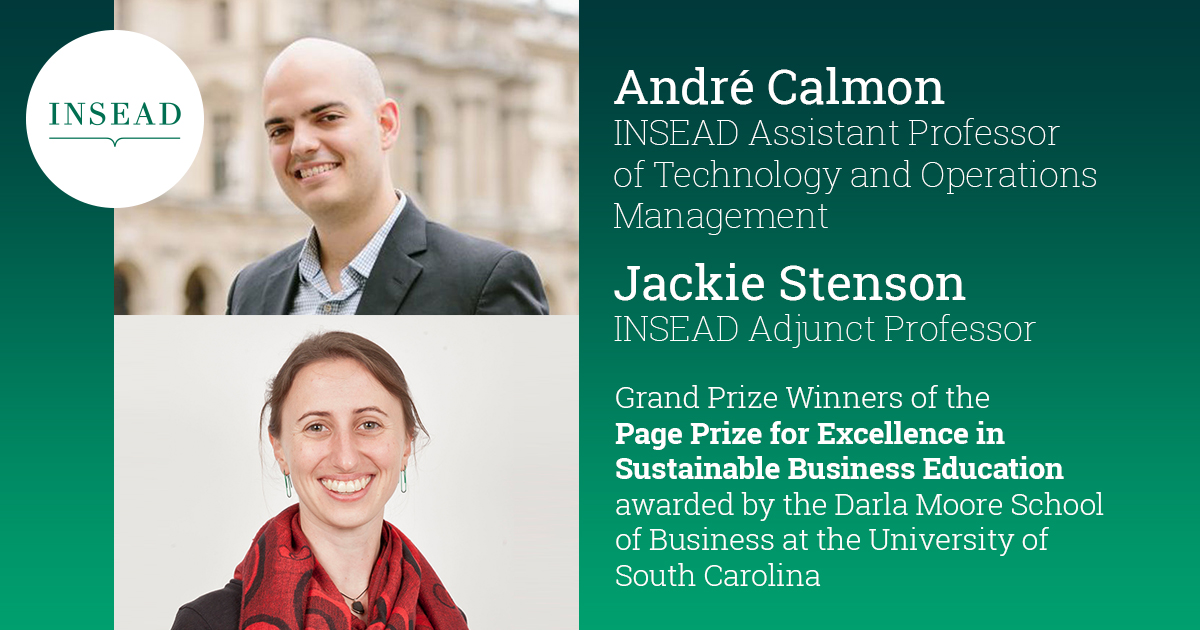 The social and environmental impact of businesses has become a central issue in modern society. Communities are demanding higher standards of air, water, and soil quality. Climate change has begun to generate significant economic impact. Consumers are becoming more aware and conscious of the social impact of business practices. Even though the technology and products to address many of today's global environmental and social challenges already exists, there is a lack of processes and strategies needed to deliver these solutions to those who most need them.
In the first part of this session, discuss the UN Sustainable Development Goals (SDGs), the concept of Planetary Boundaries, and examine their relevance to business. We also discuss the definition of social businesses and the "myth" that profit and sustainability are incompatible.
In the second part of the session, we introduce fundamental management concepts related to SDG 12: Responsible Production and Consumption.  In particular, we discuss the state-of-the-art management thinking related to the circular economy. We also analyze the challenges of implementing a "circular" initiative in a large corporation.
In the final part of the session we introduce the Sustainability Innovation Process – a novel innovation framework for identifying scalable business-based solutions to sustainability challenges. Participants will learn about the process and how innovative corporations have used it in practice. We end the session with a transition to the "hands-on" component of the course, where participants will go through "Problem Framing," the first stage of the Sustainability Innovation Process.
29.09.20
IMD Masterclass med Professor Howard Yu, "
Competing in China and Beyond + Solving the Execution Challenge: The Other Side of Digitization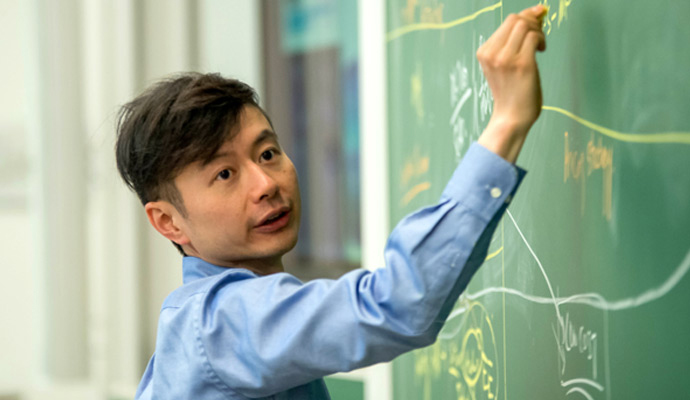 Session 1 : Competing in China and Beyond
In 2007, celebrated author and journalist Thomas Friedman published The World Is Flat, in which he describes how the Internet transcends national boundaries and narrow ideologies by bringing billions of people online.
In reality, however, the Internet has made the world anything but flat. It turns out the online world is a rugged landscape complete with mountain ridges and deep valleys. Even when adapting to the same enabling technologies, consumers often adopt vastly different habits, and multiple business models germinated by the same initial insights are often put into practice differently. Nothing is uniform among the companies that have come to dominate the world's ecommerce. They instead resemble a collection of zoological species with functional features highly adapted to their local environments.
Market niches demand specialization when companies fight over market share. It was from the rough and tumble of the IT world that many Chinese e-commerce giants were born—Tencent, Alibaba, JD.com, just to name a few. In this session, we'll examine how Chinese firms are rapidly move up the value chain and develop higher-level capabilities, and how they lead in areas just as mobile payment, artificial intelligence, and robotics.
Session 2 : Solving the Execution Challenge: The Other Side of Digitization
Companies can't survive without innovating. But most put far more emphasis on generating Big Ideas than on executing them—turning ideas into actual breakthrough products, services, and process improvements. That's because "ideating" is energizing and glamorous. By contrast, execution seems like humdrum, behind-the-scenes dirty work.
But without execution, Big Ideas go nowhere. This session is designed to expose managers about the reasons why execution on digital strategy is even more important than many senior executives realize, and sheds powerful new light on why businesses fail to deliver on even their most promising strategies
Eller inkludér det i dit medlemskab
Scandinavian Executive Institute har via Winning Team og Victor Feddersens aftale givet Cycling Business Network mulighed for at tilmelde sig disse eksklusive Masterclasses som hold. Vores deltagere kommer til at være sammen med Winning Teams deltagere, så der er lagt op til viden fra øverste hylde og et stærkt netværk på disse arrangementer.
Masterclass events kan både købes via dit medlemskab, så det bliver en del af den samlende investering, eller købes individuelt for 5.500 kr. + moms.
Om Scandinavian Executive Institute
Scandinavian Executive Institute blev etableret i 2007, og er en førende udbyder af leder- og bestyrelsesuddannelser på et højt fagligt niveau til topledere, ledere og bestyrelsesmedlemmer i hele Skandinavien.
Hjørnestenen i uddannelserne eret tæt samarbejde med de internationalt anerkendte business-skoler, INSEAD i Frankrig og IMD i Schweiz, som begge er banebrydende og velrenommerede universiteter, der har modtaget en lang række priser og anerkendelser.
Scandinavian Executive Institute har som vision at være Nordens fortrukneudbyder og facilitator af uddannelser og netværk via et stærkt samarbejde med partnere i verdensklasse. Vi hjælper  organisationer samt topledere, ledere og bestyrelsesmedlemmer med at nå sit højeste potentiale ved at bygge bro mellem global viden og lokal anvendelse.
I samarbejde med vores internationale partnere udvikler vi løbende toplederuddannelsen Executive Management Programme INSEAD, bestyrelsesuddannelsen Executive Board Programme INSEAD samt lederuddannelsen Leadership Acceleration Programme IMD. Desuden tilbyder vi medlemskab i business-forummet Executive Forum.
Læs mere på www.se-institute.dk

Muligheden for at få den nyeste viden fra forskere og professorer, som er tilknyttet Insead og IMD, er et resultat af vores nye samarbejde med Winning team
INSEAD OG imd mASTERcLASSES

Executive Business events med netværk. Foredrag & inspiration,